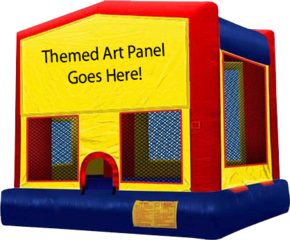 Custom Theme Bouncer
Your Party - Your Theme!
With this exciting modular bounce house rental you choose your favorite theme from a large selection of our custom banners. This unit features an inflatable safety ramp at the entrance to protect excited kids as they scramble to get inside the bouncer. It also has large netted vent windows that keep things cool for the kids and allows parents to keep a watchful eye on all activities inside. It has a large bounce area that will accomodate appoximately 6-8 users at a time.
Features:
Inflatable Safety Ramp Entrance - Large Netted Vent Windows - Safety Door Closure - Combined Total Weight Maximum 1,000 lbs
Choose Your Custom Theme -- See Below
Copyright © . Blast Party Rentals LLC. All rights reserved. 199-D Dow Highway, South Berwick, ME 03908