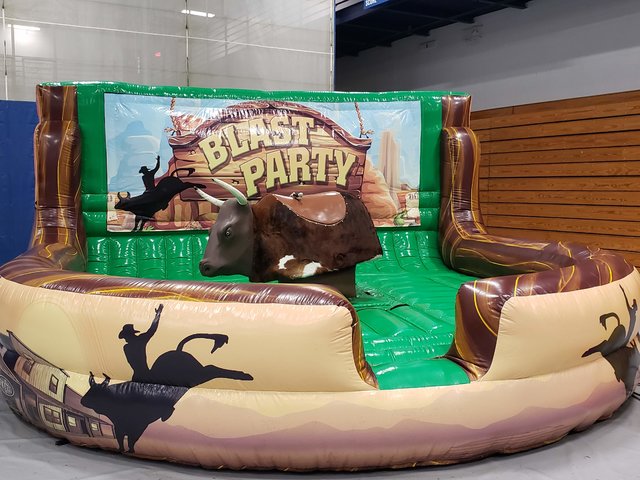 Mechanical Bull
Actual Size: 16' diameter
Setup Area: 20'x20'x10'H
Outlets: one dedicated 20 amp circuit
Attendants: Includes one trained operator




Mechanical Bull Rentals
Mechanical Bull Rentals-Maine and New Hampshire
Priced by the hour - One hour = $779 / Two hours = $879 / Three hours = $979 / Four hours = $1,379
Ride'em Cowboy! ...or Cowgirl!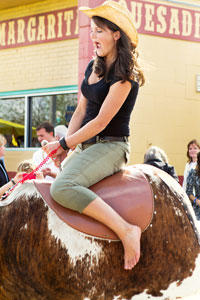 You know you've always wanted to ride the bull - now you can have a mechanical bull rental right in your own backyard! No other party rental company in Maine or New Hampshire can give you the safest and most exciting mechanical bull from all New England party rental companies. And we have great prices too: One hour = $775 / Two hours = $875 / Three hours = $975
This item is the perfect addition to project graduation, school carnivals, family reunions, Old Home Days, lawn fetes, graduation parties, and camp celebrations. Price includes travel time, set up and break down,and a professional bull operator.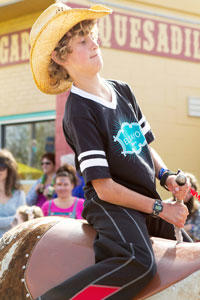 No falling in a dusty arena here - safety is a key measure at Blast Party Rentals, and we don't leave it to the rodeo clowns. Our bull is surrounded by a custom-made inflatable which is inflated fully and per safety standards setup by our manufacturer. Maximum protection is available at all times thanks to this top-quality piece of equipment. Rent the Blast Party Rentals Mechanical Bull for your next event in Maine, New Hampshire, or Massachusetts.
Afraid to mess with the bull or you'll get the horns? You don't need to worry about with padded horns on our mechanical bull. Both the head and the horns are padded and soft - they're made with a material called Sofolex™ which consists of a soft foam material coated with a hard wearing flexible poly skin. Our manufacturer also designed this bull with a safety rope as a handle, rather than a strap or metal post. Not only will you not hurt yourself holding on, but it also allows a quick and safe dismount when you get bucked off - and don't worry, everyone does! Our operator controls the speed on a variety of settings for greenhorns up to cowboys, and can even manually control the speed. This allows anyone who meets the qualifications to ride, regardless of age or ability.
Our trained operator is responsible for running the bull at all times. Before being allowed to operate, they must undergo training and pass a test - and all on-the-job training is done under close supervision. They'll be 100% present and attentive to each of your guests, ensuring a safe and fun experience for all.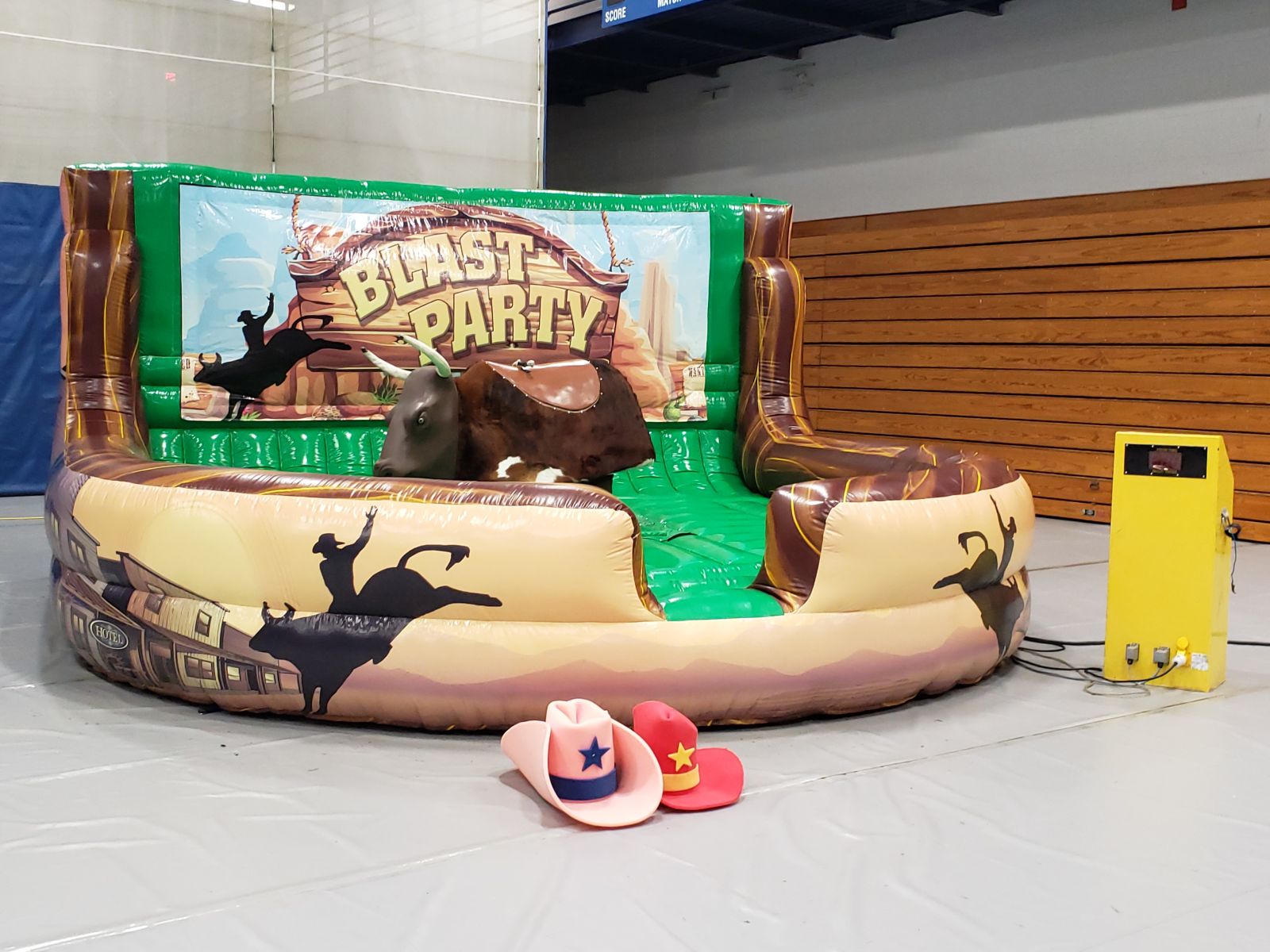 Delivery Area:
Blast Party Rentals delivers and rents the mechanical bull to all areas in Maine and New Hampshire, including York, South Berwick, Kittery, Eliot, Old Orchard Beach, Biddeford, Wells, Berwick, Somersworth, Greenland, Hampton, Portsmouth, Dover, Durham, Rochester.
Requirements:
Occupancy: 1
Dimensions: A 20' x 20' area for the inflatable mattress, blower and control stand is needed.
Outlets: 2 separate circuits: One 20 amp dedicated circuit within FIFTY (50) feet of the set up area and one 15 amp dedicated circuit within SEVENTY-FIVE (75) feet of the set up area
Attendants/Monitors: This item requires (1) Attendant to stay with the unit while in use. This is included in the rental price.
Setup: Set up indoors or outdoors - must be able to drive directly up to the set up spot OR area must be handicap accessible with no hills or stairs.
Setup Location:
1. Your setup location needs to be free of rocks, pet waste, sharp objects, or any other hazards.
2. We cannot setup under any utility lines and must have a clearance of 5 feet in all directions away from any obstacles.
3. Please make sure you clear a spot for us to park & unload the equipment as close to the location as possible. If your parking is further than 75 feet please notify our office or put it in the notes portion of your booking.
Waivers: All participants are required to fill out a waiver per event. Participants under the age of 18 are required to have parent signature on file, or filled out and given to the operator.
Includes:
Delivery, set up, and break down
Trained operator for the duration of the event.
Full Liability Insurance
Pre and Post Event Cleaning, Sanitizing and Inspection
Staking and/or Sandbagging
Extension Cords (we provide cords - set up must be within 50' of a dedicated 20 amp circuit and 75' of a dedicated 15 amp circuit.).
Safety Training
Copyright © . Blast Party Rentals LLC. All rights reserved. 199-D Dow Highway, South Berwick, ME 03908